Friend January 2018 "Colors of Kindness" Crossword puzzle of ways Jesus showed kindness to others.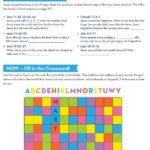 Jesus Heals
Names of Jesus
Miracles
Good Shepherd
Friend June 2018 "Apostles Testify of Jesus"  "Shepherds lead their sheep to food, water, and shelter and protect their sheep from harm. Jesus taught that He is the Good Shepherd. When we choose to follow Him, He can lead us to safety and peace. Lead the sheep safely home through the maze!"
After Resurrection
Jesus's Life
Friend March 2018 "Let's Learn About Jesus" Point to the picture that goes with each sentence.