Following Jesus
Animated Video about following Jesus from ComeUntoChrist.org
Come Unto Jesus
Friend May 2019 "Family Night Fun"
Before home evening, put a picture of Jesus on one side of the room. (You could use the picture on page 69 of *CFM.) Then sit on the other side of the room and read "Jesus Blesses the Children" on page FJ4. How can we "come unto Jesus" like in the story?

Have everyone stand up and take turns saying what they can do to come unto Jesus by following Him.

With each idea, take a step toward the picture of Christ. Keep helping each other think of good things until everyone is with Jesus together! Then talk about what it means that Jesus is the Good Shepherd. (See *CFM, page 66.)
Drawing the Power of Jesus Christ into Our Lives
Friend January 2019 "Learn About Jesus" President Nelson says we can draw upon the power of Jesus Christ if we do these things: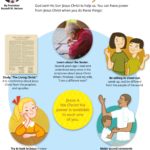 Jesus is the Light of the World
Friend December 2018 "Family Night Fun" Make a cup lantern by making holes all around it and then putting a glow stick or battery candle inside. Use for example of Jesus being a light to the world.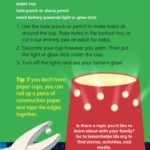 Following Jesus Leads to Happy Life
Friend November 2018 "Conference Notes" Elder Bangerter tells how his family has camping devotionals where the children share messages about Jesus. At one devotional they wrote the topic of those messages on stones and buried them to remind them that following Jesus creates a foundation for a happy life.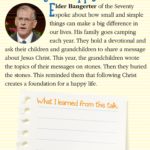 Following in His Footsteps
Friend March 2018 "Family Night Fun" Each person makes a pair of sandals and then writes on their shoes one way they want to follow Jesus.
Following His Example
Friend March 2019 "To Be Like Jesus" President Eyring discusses love being a way we can be like Jesus. Color the heart and label it with the people and activities you love. Then discuss how we can show the love in our hearts.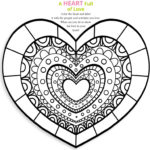 What Would Jesus Do
We should remember Him and follow Him like sunflowers follow the sun across the sky. Quentin L. Cook
Friend January 2016 Trace your footprint on a piece of paper and cut it out.
Write about something you have done or something you will do to stand tall in following Jesus and choosing the right. It can be something big or small.
We Light the World When We Follow Jesus
Friend January 2018 "Let Your Light Shine" President Monson discusses being a light to the world by following Jesus's example. Activities: Trace this star, or draw your own, and write how you are shining brightly by being a good example or helping others. Also, color a star as you read each scripture about Jesus Christ's example.
Reminders to Follow Jesus
Handouts