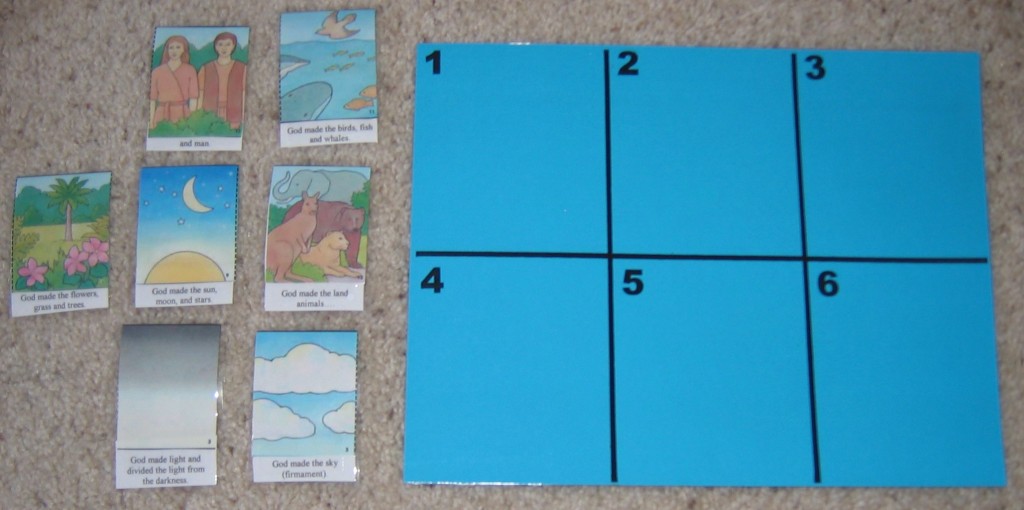 It is a Commandment to Keep the Sabbath Day Holy 
Game and Object Lesson
Preparation
Game
Divide the family into two groups or more. (More copies of the game board and creation pictures will be needed if if the family is divided into more than two groups.)
Give each group a game board and a set of creation pictures.
Have each group try to put the correct pictures in each square according to which "day" it took place in the creation account (one square will get two pictures). After they are done, tell them the correct order and have them check their answers.
• On the first day God made light and divided the light from the darkness.
• On the second day God made the sky (firmament).
• On the third day God made the flowers, grass and trees.
• On the fourth day God made the sun, moon, and stars
• On the fifth day God made the birds, fish and whales.
• On the sixth day God made the land animals… and man.
Discussion
After they fix their boards, ask the family what day of the week is missing on their chart. (The seventh)
• What happened on the seventh day? (Read Genesis 2:2-3) God sanctified the day and rested from his labors.
Since the beginning of the world, one day a week has been set apart for us to rest from our labors, and to focus on worship and spiritual matters. We call this day the Sabbath.
• What day do we observe the Sabbath? (On Sunday)
(Show the picture of Moses)
When Moses was on the earth, the Lord gave him some stone tablets.
• What was written on those tablets? (The Ten Commandments)
Read Exodus 20:8 Explain that keeping the Sabbath day holy was one of the Ten Commandments. Keeping the Sabbath day holy is a commandment.
Object Lesson
• Why are we to keep the Sabbath day holy?
In the bible dictionary, it says that something that is holy is set apart for a sacred purpose.
• What purpose was the Sabbath day set apart for? (For worship, and to get spiritually strengthened and physically rested)
Read the scripture Exodus 31:17. Ask what refreshed means. (Rested, clean, nourished)
Heavenly Father knew we would need spiritual and physical refreshment each week.
Pour water from the pitcher into the cup, explaining that as we attend our church meetings, worship and keep the Sabbath day holy, we are spiritually filled and refreshed.
During the week we are involved in activities that may drain our spiritual reserves. (Pour water from the cup into the bowl as you name several possibilities such as school, chores, sports, friends, disagreements with a family member or making a wrong choice.)
We can replenish our cup a little each day as we read the scriptures, pray and keep the commandments (pour a little water from the pitcher into the cup for each item mentioned).
On Sunday we are commanded to use the entire day for spiritual refreshment and physical rest so that we can have the spiritual strength and physical renewal to help us make good choices and keep the commandments throughout the week. (Fill the cup with water) (Object lesson from Primary 6 manual, Lesson 20, Enrichment Activity #1 )