Scripture Treasure Hunt Paul taught that scriptures bless us with wisdom, doctrine, correction, instruction, and faith. On separate pieces of paper, write "wisdom (Acts 18:28)"; "doctrine (Titus 1:9)"; "correction (Matthew 4:3–10)"; "instruction (Acts 17:2–3)"; and "faith (Romans 10:17)." Send everyone out of the room. Hide the five papers in the following locations: table, window, door, pillow, book. Invite everyone back. Have them read these scriptures to identify the keyword clue to find each hidden paper. (John 18:16=door; Mark 4:38=pillow; Revelation 22:7=book; Acts 20:9=window; Luke 22:21=table.) Read aloud the scripture on each found paper and discuss how it's an example of that blessing. Discussion: What can we do to improve our personal and family scripture study?
Friend January 2019 "For Parents of Little Ones" Ideas for family scripture study with small children.
Friend November 2018 "For Parents of Little Ones" Ideas for teaching scripture stories to young children.
Ensign April 2017 "Done!" Friends help each other by texting each other each day the word "done" after they have read their scriptures.
Friend May 2019 "Conference Notes" Elder Stevenson spoke about "playbooks" that sports teams use to make plans for their games. He said that the scriptures and words of the prophets can be like a playbook for our life. They help us know what to do in different situations.
Friend May 2017 "Friends By Mail" Family has tradition of reading one story from the scriptures and one story from the Friend every morning before school.
Handouts
Friend November 2019 "Conference News" "Read and study the Book of Mormon every day, every day, every day."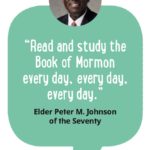 Come Follow Me
Friend October 2019 "For Parents of Little Ones"  A few tips from parents who found creative ways to make the Come Follow Me lessons a positive part of their regular routines.