Talks
Friend February 2015 "Juliana Gives a Talk" Juliana is scared to give a talk, but Heavenly Father helps her.
Friend November 1985 – "Louis's Talk" –  A boy prepares his first talk.
Graduation from Nursery to Sunbeams
Primary Graduation
Friend October 2017 "Finding Lydia" Lydia isn't excited to be graduating from Primary and going to Young Women's, but she becomes more excited when her mother finds some family names for her to do baptisms for in the temple, and one is named Lydia.
Friend November 2015
 "Young Women Strong!" Maya learns about Young Womens and how it adds spiritual strength.
Primary Sacrament Program
Friend November 2015
 – Mandy wants to be a good example for the younger children in the Primary program.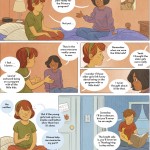 Friend August 2015
"Clara and the Primary Program" New member, Clara, is asked to read and bear testimony in the Primary program.