What to Pray for

Answers to Prayers
Friend October 2016 "The Loose Tooth Test" Tessa says a prayer that her loose tooth that is bothering her will  fall out. Tessa learns that sometimes the answer is to wait.


Friend January 2017  "Don't Forget to Pray for Erik" Kari doesn't understand why Heavenly Father hasn't answered their many family prayers for Erik to come back to the gospel.
 
Praying for Help
Friend February 2015 "A Prayer in the Attic" As refugees during World War 2, Renate and her family are in constant danger from soldiers, but Heavenly Father helps them and answers their prayers and keeps them safe.
Friend February 2015 "There's Always Time for Prayer" Flynn prays for help because he's scared about starting a new school. He prays every morning, and when things get good he continues to remember to pray and express his gratitude.
Friend January 1989 "Lost, But Not Alone" Megan becomes seperated from her parents in a Korean market. She prays and is impressed to stay where she is, and she is helped by some Latter Day Saint Korean's.
Friend January 2017 "Goats on the Run" Evelyn's new goats jump the fence, and Evelyn is afraid they might not come back, so she says a prayer and the goats return.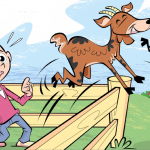 Friend November 2016 "Henry and the Corn Maze" Henry and his mom and friends get lost and tired  in the corn maze and say a prayer for help.
Friend September 2016 "Heavenly Father Hears Your Prayers" Small stories. One about a girl praying to know if Heavenly Father knows her and knows about her troubles. And one about a brother praying for another brother because he knew the brother was worried about soccer. Also a story about a mother praying for her son to find a friend.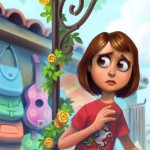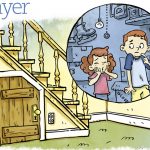 Pray with Faith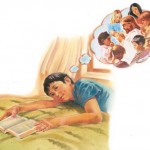 Friend October 1986 "A Prayer for Uncle Alban" Jamon prays that his uncle will recover from a heart attack, but he doesn't. He learns that the Lord knows what is best and we need to have faith in his judgment.
 Friend May 1988 " Sharing Time: Seeking Guidance Through Prayer"  Story of Enos praying with faith and the story of two brothers who get lost in the woods and their prayer and answer.

Prayer Requires Effort
Friend February 2017 "Multiplication Master" Luca wants to become a multiplication master, but he isn't doing well enough on the tests. He prays and expects to do well, but he doesn't because he hasn't practiced. He learns he has to do his part.
Friend June 1983 " The Secret Weapon" – Boy prays to do well in baseball game but doesn't.