History of Primary Songs
General Music Activities
Friend May 2017 "Conference Puzzles" Draw a line to finish the song.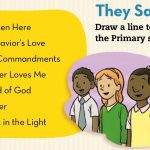 Crossword puzzle song review idea– make a crossword puzzle with sentences from the song being reviewed. The missing word in the sentenc will be on the crossword puzzle.  Going in numerical order, have the classes take turns telling what word is missing. If they don't know what the word is, have everyone sing the song and have the class listen carefully for the word. Have a child from the class fill in the word on the puzzle.
Song Review Ideas
Attach a ribbon to a stick. Have the children sing louder when the stick is waved high and quieter when the stick is waved low.
Friend May 2016 Freeze Dance. Pick one person to be the music master. That person picks songs to play, and everyone else dances to the music. When the music master pauses the song, everyone else freezes! Anyone who moves is out. The last person dancing becomes the new music master, or you can take turns if there is a tie. (Or make it non-competitive and no one gets out. After the song is done a new music master is chosen according to who froze or sang the best.) Download free, fun music at lds.org/youth/music. (Could also be used as an activity sing idea to get wiggles out.)