Missionary Work Brings Happiness
Being a Missionary Now
Friend May 2019 "Conference Activity Page" Elder Uchtdorf taught five things we can do to help people learn about Jesus. Follow the lines to complete each sentence.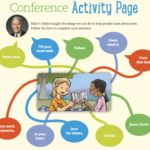 Friend July 2019 "Sharing the Gospel" President Oaks shared some ways we can help share the gospel. Match each picture with the number from President Oaks's message.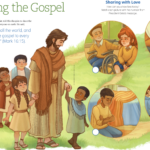 Answering Questions About Church
Friend April 2017 "Question Corner" If a neighbor asked you why you got to church, what would you say?
Friend January 2018 "What's on Your Mind?" Answering the question "Why does it matter if you keep the commandments?" Aswers could include the following: How would it feel flying with a pilot who didn't follow the rules of aviation? What about riding on a bus with a driver who didn't stop at red lights? The commandments help keep us safe.
We Share With Friends
Culture & Traditions (including gospel)
 Ways to Share the Gospel
Friend July 2019 "What's on Your Mind?  A child writes this question to the Friend: "I want to be a missionary now! How can I share the gospel with my friends?" The Friend responds with some drawings from another child of ways to share the gospel. They also share the following: When you try to follow Jesus and share His love with others, people will notice your good example.
Friend July 2017 "Hi Friends"
I took my CTR ring and the Friend for show and tell at my preschool. I liked being a missionary!
Lindsay, age 4, North Carolina, USA
Prepared to Be a Missionary Now
Missionary Traits
Preparing for a Mission
Friend August 1986  Missionary topics to practice teaching.
Going on a Mission
Friend October 1988 "For Little Friends: What Missionaries Do"

Supporting Missionaries
Friend May 2017 "Family Night" Writing missionaries and sending cookie care package.

Family Members on a Mission
Friend May 2017 "Family Night" Waiting for someone to come home.