Note: Children can use the Gospel Library app to listen to the Friend being read to them while they follow along. They will hear many stories of children choosing the right that will set a good example for them.
Example of Courage
Friend February 2015 "Who is Your Hero?" Ellie is afraid to say in her school class that her hero is Jesus Christ, but another boy says it and his example helps her not to be afraid anymore to stand as a witness for Christ.
Setting an Example of Service
Friend December 2016 "Cookies, Cans, and Christmas" A mother got out of  her car in the rain to help a homeless man pick up spilled cans in the road. It makes an impression on her kids.

Righteous Influences
Friend February 2015 "How Can I be Good Example" Richard G. Scott's's parents didn't go to church, but because of the influence of his grandmother, Richard was active in church. Later, his future wife influenced him to go on a mission.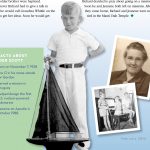 Example of Living the Gospel
Friend October 2016 "What I Learned from Alex" Alex sets a good example of keeping the Sabbath Day holy.
Friend September 2016 "Pretty Much Brothers" Xander likes having Sevak from Armenia staying with his family. It's like having an older brother, but Sevak doesn't know the things Xander knows about Jesus and Heavenly Father so Xander helps him.
Example of Choosing the Right
Friend Sept 2015 "A Courageous Choice" – Girl able to have courage to do what was right after remembering a story in the Friend magazine about a child choosing the right in the same type of situation.
Example of  a Good Attitude
Friend August 2016 "Brian Leads the Way" Brian has a "can do" attitude when his father needs help in the yard. He sets a good example for his older brothers.