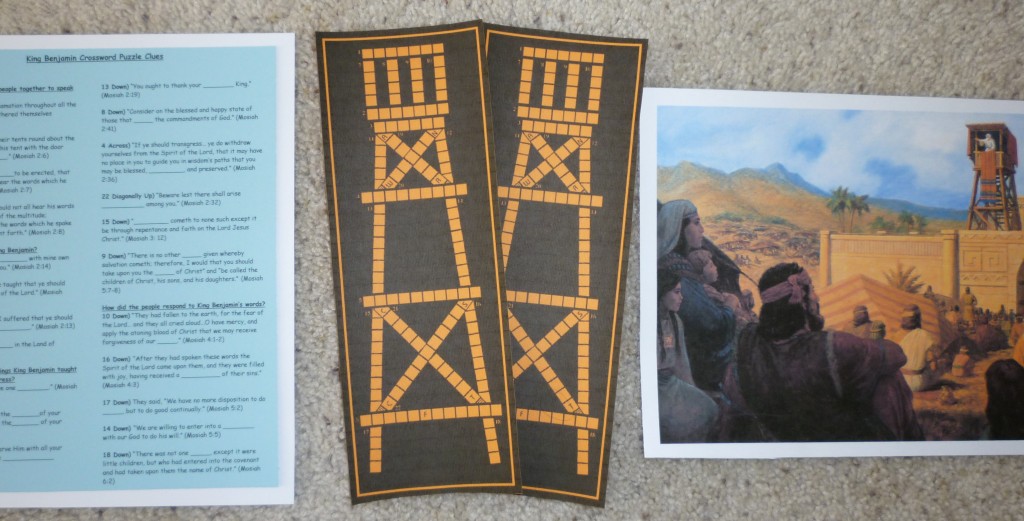 Lesson 10
King Benjamin
Preparation
Scripture Story Introduction
Briefly review the previous week's lesson. Explain that after Enos died the records of the people were passed down from generation to generation. The Nephites had many battles with the Lamanites through the generations. The Lord warned a Nephite named Mosiah to flee out of the land with as many as would listen to the voice of the Lord. The people fled until they came to a land called the Land of Zarahemla. They discovered a people there called the people of Zarahemla (or Mulekites). The people of Zarahemla had been brought by the hand of the Lord to the promised land. They had come out of Jerusalem at the time King Zedekiah of Judah was carried away captive into Babylon. The Mulekite's language and religious beliefs had become altered because they had brought no records with them. Mosiah had them taught his language. The people of Zarahemla and the people of Mosiah united. Mosiah was appointed their king. After King Mosiah died, his son King Benjamin ruled. King Benjamin was a righteous king. King Benjamin ruled the people for many years. When he became old he called his people together to speak to them before he died. (Display the picture of King Benjamin addressing his people.)
Scripture Story Activity
Hand out the crossword puzzle, crossword puzzle clues, pencils, and Book of Mormons to each child. Explain to the children that they are going to learn more about King Benjamin and his final address to his people as they do the crossword puzzle.
Going in the order given, have a child read a crossword puzzle clue and then try to guess what the missing word might be. Direct all the children to look up the scripture reference to see if the guess is correct. Have someone read the whole scripture out loud. The answers are given below. Further explanations are given after some of the answers. Stop at each of these points to discuss the scripture a little further.  Be sure to also read each sections title and any explanation underneath it before having the children read the scripture clues.
King Benjamin called the people together to speak to them before he died.
King Benjamin was getting old and knew that he would die soon. He needed to confer the kingdom upon one of his sons, and he wished to speak to the people before he died.
7 Down) LAND
3 Across) TEMPLE
The temple was of great spiritual consequence to the people, so it was a significant place for King Benjamin to teach and instruct the people.
12 Down) TOWER,
The multitude was so great that King Benjamin had a tower built so they could hear his words.
20 Diagonally Up) WRITTEN
Many of the people still could not hear his words as he spoke from the tower, so he had his words written down and sent among the people.
What kind of man was King Benjamin?
We learn more about what kind of man and leader King Benjamin was as he begins his address to his people.
1 Across) LABORED
King Benjamin did not seek for the people's gold or silver. He labored to serve them. He was a righteous leader.
21 Diagonally Down) COMMANDMENT
5 Across) WICKEDNESS
11 Down) PEACE
There was a serious war between the Lamanites and the Nephites, and King Benjamin was instrumental in driving the Lamanites out of their land. He also taught the Nephites to keep the commandments, and he would not suffer that they commit any manner of wickedness. Because of these things he established peace in the land.
What are some of the things King Benjamin taught the people during his address?
19 Diagonally Down) ANOTHER
2 Across) SERVICE
Heavenly Father loves his children. When we serve others we are helping the Lord love and care for his children. The Lord has done much for us, and we can show our love and gratitude for Heavenly Father by serving his children.
6 Across) UNPROFITABLE
The word unprofitable means running at a loss. Everything we have, including our life, our Heavenly Father has given us. The only thing we can give to God is our obedience. But when we are obedient he blesses us and we are indebted to him again. We can never repay our Heavenly Father for the blessings he bestows upon us.
13 Down) HEAVENLY
8 Down) KEEP
4 Across) PROSPERED
22 Diagonally Up) CONTENTIONS
15 Down) SALVATION
An angel had appeared to King Benjamin and had told him of the Savior's coming in great detail, including of His death and resurrection. Jesus Christ suffered and died for us that we might repent of our sins and live with Heavenly Father again.
9 Down) NAME
When each of us is born into a family, we receive a family name. Ask the children to tell what their family name is.
When we are baptized and become members of the church we take upon ourselves the name of Jesus Christ. We become the children of Christ. Because of Christ's atoning sacrifice he is the father of our spiritual rebirth.
Ask the children what characteristics they inherited from their parents. Tell them we can also become like Christ through our covenant to keep his commandments.
Tell the children to read the scripture in this clue, and tell why it is important for us to take upon ourselves the name of Jesus Christ. (There is no other name or way where salvation can be attained.)
How did the people respond to King Benjamin's words?
10 Down) SINS
The people of King Benjamin recognized the need for power beyond their own to overcome their sinful condition. They prayed for mercy and asked Heavenly Father to apply the "atoning blood of Christ" so they could be forgiven of their sins.
16 Down) REMISSION
17 Down) EVIL
The people experienced a mighty change of heart. They had no more disposition to do evil. They had a desire to convert their lives to the things of God.
14 Down) COVENANT
18 Down) SOUL
• When do we make this kind of covenant? When we are baptized. We renew our baptismal covenants when we take the sacrament. King Benjamin's people were members of the church who gained a greater understanding of the gospel and the atonement through listening to the words of their leader – to the point where they had a mighty change of heart. We must also listen to the prophet, study, learn and gain understanding so we came experience a mighty change of heart and gain a renewed commitment to take upon us the name of Christ and be a representative of Him through our actions and deeds.
Conclusion
• How did the people of Zarahemla respond to the call to gather at the temple to hear their prophet and king?
• How do we respond to the call to hear the words of the living prophet? Do we eagerly take advantage of those opportunities to hear and read his words?
• When do we have the opportunity to hear the prophet's words? During General Conference that is held in October and April.
• Where can we read the prophet's words? Show the children a copy of the Friend magazine and explain that there is a message from the prophet or one of his counselors at the beginning of each magazine. We can also read their words in other church magazines.
We need to listen to and obey the living prophet's words just as King Benjamin's people listened to and obeyed his words. As we do this our hearts can change, and we will have no more disposition to do evil but to do good continually.
Weekly Reading Assignment
Remind the children to do their scripture reading assignment for this week – Mosiah 2:1–41 and Mosiah 5:1-8