Reading the Book of Mormon
Friend January 2018 "Book of Mormon Reading Club" Includes children's thoughts about reading the Book of Moron. February, March, April, May, June, July, August, September,  October, November, December,
Goal Cards
Book of Mormon Women Heroes
Introduction to the Book of Mormon
Consider using a set of dominoes or gathering items from around your home to use as dominoes. Have family members set them up in a line and then push the first one over. Discuss how the Book of Mormon is central to the message of the Church and how it is like the first domino: once we know for ourselves that the Book of Mormon is true, all of the other truths of the Restoration fall into place, just like the other dominoes. Ensign January 2016
Friend March 1988 "Sharing Time" Learning how to find stories and information in the Book of Mormon. Includes an activity for putting the books in the right order.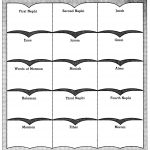 Lehi Leaves Jerusalem
Traveling in the Wilderness
Crossing the Sea
The Promised Land
King Benjamin
Friend November 2019 "Friends by Mail" During general conference, we used the "Pitch Your Tent" cutouts (March 2018) to create a 3D model and added quotes from President Nelson's talk! Ava and Maryanne P., ages 8 and 6, Washington, USA
Friend August 1988 "Sharing Time: Be a Righteous Leader"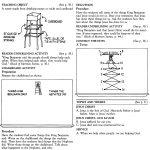 Abinidi & King Noah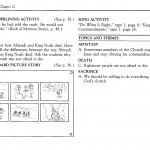 King Limhi
 Alma the Younger Repents
For they were the very vilest of sinners.(Mosiah 28:4)
But Alma 48:17-18 talks about these men and the changes they had made.
17 Yea, verily, verily I say unto you, if all men had been, and were, and ever would be, like unto Moroni, behold, the very powers of hell would have been shaken forever; yea, the devil would never have power over the hearts of the children of men.
18 Behold, he was a man like unto Ammon, the son of Mosiah, yea, and even the other sons of Mosiah, yea, and also Alma and his sons, for they were all men of God.
Alma & Amulek
The People of Ammon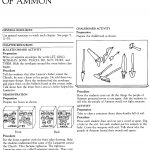 Anti-Nephi-Lehies
Friend August 2018 "Family Night Fun" Write a bad habit on a piece of paper. "Bury" the bad habit! Tear up the paper, or bury it outside. You could even plant a flower to represent replacing a bad habit with a good one.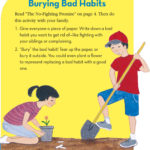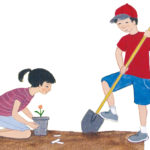 Brother of Jared & Jaredites
Friend November 1988 "Annette's Very Own Scriptures"  A teacher tells the story of the brother of Jared using some fun ideas.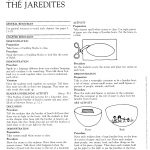 Book of Mormon Review or Timeline
Friend September 1988 "Sharing Time: Study the Book of Mormon"