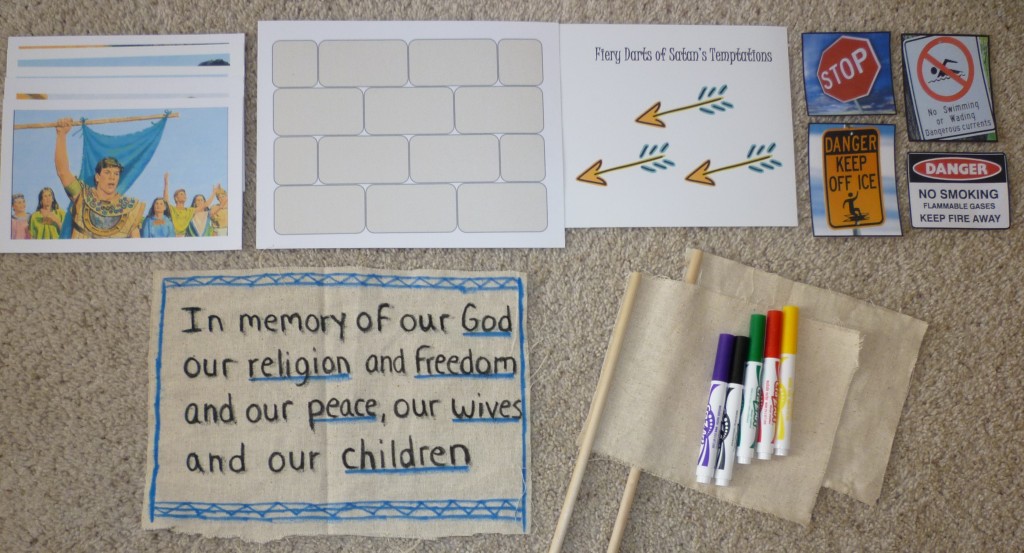 Lesson 26
Captain Moroni and the Title of Liberty
Preparation
• Items needed: a national flag or pictures of the flag, patriotic music such as "The Star Spangled Banner" (Note: Hymn CD's and players can be checked out at the meeting house library), a large piece of fabric that can be torn up, a pole or long stick, coloring markers, tape or sticky tack, scisssors, and a roll of wide masking tape. (Optional Items: small dowel rods to attach the children's flags to, and glue or tape.)
• Each child will be making a flag from a piece of the fabric, so you need to determine how many flag pieces you need and how big you want them to be. With a pair of scissors, cut into the fabric slightly at the sections you wish to tear to make each child's flag. Also cut or tear a large piece off of the fabric to make a prepared example of Moroni's Title of Liberty. Write the following words on it using markers: "In memory of our God, our religion, and freedom, and our peace, our wives, and our children.". Be prepared to attach the "Title of Liberty" to a pole.
• Print and cut out the scripture story visual aids. Cut each page in half so one picture is on each half. Number the back of the pictures in the order they were printed. Print and cut out the activity visual aids. Be sure to cut out each stone.
Attention Activity
Have patriotic music playing and a flag displayed (or pictures of a flag) as the children enter into the classroom. Ask the children how they felt as they heard the music and saw the flag. Ask if they felt a sense of patriotic loyalty and devotion. Ask the children how they would feel if they heard that someone wanted to take over their country, take away their freedoms, take away their right to go to church, and even possibly harm their family members in the process.
Explain that in today's lesson they are going to learn of a people who had to face this very problem, and they will learn what a leader of these people did to protect his people. They are also going to learn how the actions of this leader demonstrate how we can protect ourselves from the attacks of a spiritual enemy who desires to destroy our freedom and lives.
Scripture Story
Tell the following story using the scripture story visual aids.
1.  Among the Nephites there was a man named Amalickiah. He desired to be king. He sought to destroy the church and destroy the foundation of liberty which God had granted them. (Alma 46:10)
• Why would Amalickiah want to destroy the church and the liberty of the people? Perhaps as a way to gain total power and influence over the people.
• In the preexistence who had a plan to destroy the freedoms and agency of the people who came to earth? (Satan) What did Satan hope to gain from implementing his plan? (Glory and power)
• What would life be like without agency? To help the children imagine what it might be like to live under Lucifer's plan, tell them that for the next few minutes they must do exactly what you say and nothing else (make sure they know they cannot talk). Have them stand and remain standing perfectly still for a few seconds. Then tell each child where to sit. (Do not seat friends near each other.) Tell the children they must sit erect, feet flat to the floor, looking straight ahead, not moving or speaking. Have them hold the position until you tell them otherwise. After about thirty seconds, let them stand again and sit where they want. (Walk in His Ways pg 62)
Ask the children how they felt during the exercise and how they would feel if they were forced to do exactly what they were told to do, all day every day.
2. In Amalickiah's quest for power he was able to get many people to follow him. He flattered them and told them he would make them rulers over the people if they supported him and made him their king.
3. When Moroni, the chief commander of the armies of the Nephites, heard of these dissensions he was angry with Amalickiah.
Moroni rent (tore) his coat to make a flag to rally his people to fight against these threats to their freedom. Explain that a coat back in Moroni's day was probably a cloak. (Using the large piece of fabric, demonstrate how a cloak might have looked and how it might have been used as a coat.)
After demonstrating how it was used as a coat, dramatically take the cloth off and tear it along one of the precut slices in the fabric. Explain that fabric wasn't easy to make or as easily available back in Moroni's time, so tearing his coat to make a flag demonstrated the depths of Moroni's emotion and commitment.
Show the children the piece of fabric you prepared, and explain that Moroni wrote the following words on his rent coat, "In memory of our God, our religion, and freedom, and our peace, our wives, and our children". He then fastened it upon the end of a pole, and he called it the Title of Liberty. (Attach your prepared piece of fabric to a pole.)
Explain that the word "Title" has many definitions in the dictionary. One of its meanings is, "something that justifies a claim or an established right". So the words on the Title of Liberty might have represented their claims and rights to fight for liberty.
4.  After making the Title of Liberty, Moroni put on his armor and bowed himself to the earth. He prayed mightily unto God for the blessings of liberty to rest upon his brethren.
5. Then Moroni went among the people waving the Title of Liberty in the air that all might see the writing, and crying with a loud voice, saying: "Whosoever will maintain this title upon the land, let them come forth in the strength of the Lord, and enter into a covenant that they will maintain their rights, and their religion, that the Lord God may bless them."
6.  When Moroni had proclaimed these words the people came running together with their armor girded about them, rending their garments in token, or as a covenant, that they would not forsake the Lord their God.
• The Nephites would need to fight to defend their families and their freedoms. What direction had the Lord given to the Nephites concerning war? (See Alma 43:47)
Explain to the children that we are also fighting a daily spiritual war against Satan. He wishes to bring us into captivity through getting us to sin. Demonstrate how Satan takes away our freedom through sin by doing the following object lesson.
Object Lesson
Ask for a volunteer. Have the volunteer put their hands together. Wrap one layer of the masking tape around their fingers and thumbs. Ask them if they can break free. Explain that when we first make a mistake or sin we are easily able to break free of its grasp and repent. But Satan knows that if he can get us to do the sin again and again, that eventually the sin will become a habit or an addiction and then we are bound in captivity to the sin. (Wrap the tape around the child's hands several times, layering one area around the fingers and thumbs.) Ask the child to try and break free from the bindings. They shouldn't be able to.
Read 2 Nephi 2:27 – "Wherefore, men are free according to the flesh; and all things are given them which are expedient unto man. And they are free to choose liberty and eternal life, through the great Mediator of all men, or to choose captivity and death, according to the captivity and power of the devil; for he seeketh that all men might be miserable like unto himself."
Satan wants us to be miserable like he is, and he knows that sin destroys lives and keeps us from the many joys and blessings we could be enjoying. (Ask the child whose hands are bound to try and do some form of activity they normally could do if their hands were free such as tying their shoes. With their fingers bound they shouldn't be able to do the activity. Afterwards, remove the tape and thank them for their help.)
Explain that they are going to do an activity that will help them realize and think about all the blessings they enjoy due to freedom from sin.
Activity
Tear up the rest of the fabric into pre-sized pieces and give each child one of the pieces. Ask them to draw on it pictures or write on it the blessings they enjoy due to freedom from sin.
Share an example, such as a person who is a drug addict may not be enjoying the following blessings: good health, good relationships with family and friends, spiritual blessings such as temple attendance, freedom (they may be locked up in prison for illegal drug transactions), financial security (due to wasting their money on drugs), integrity and the trust of others (due to lying and stealing to buy drugs), etc. Their addiction becomes more important than anything else and destroys their ability to hold onto and enjoy all the good and wholesome things in life.
Once the children's flags are finished, give them the option to share what they put on their flags. Afterwards explain that they should each post their flag in their room to remind them of the many blessings they enjoy and the many reasons to fight to maintain their freedom from Satan's traps of sin.
Scripture Story Continued
7. When Amalickiah saw that the people of Moroni were more numerous than the Amalickiahites—and he also saw that his people were doubtful concerning the justice of the cause in which they had undertaken—therefore, fearing that he should not gain the point, he took those of his people who would go with him, and he departed into the land of Nephi.
8. Moroni thought to cut off the people of Amalickiah before they joined the Lamanites, because he knew that Amalickiah would stir up the Lamanites to anger against them and cause them to come to battle against the Nephites to obtain his purposes. Moroni headed off the armies of Amalickiah, but Amalickiah escaped with a few of his men.
9. Moroni caused the Title of Liberty to be hoisted upon every tower in the land of the Nephites; and thus Moroni planted the standard of liberty among the Nephites. And there was peace in the land for four years.
10. After Amalickiah escaped Moroni and his army, he fled to the Lamanites. With much deceit, fraud, and murder he became king of the Lamanites. After becoming their king, he stirred up the Lamanites to go to war against the Nephites. He sought to rule over all the land.
11. While Amalickiah had been obtaining power by fraud and deceit, Moroni had been strengthening the Nephites against attack. He strengthened the armies and built up high banks of earth and high walls of stone around their forts, cities, and around their borders.
• Moroni had also been strengthening his people spiritually. Why was it important for the Nephites to be prepared spiritually? So they would be worthy of and in-tune to the Lord's guidance when defending themselves against the attacks of the Lamanites. "Moroni told the people to obey God's commandments. If they would obey, God would help them to be free." (Also see Alma 48:15–16.)
•In what other ways does obeying commandments help us be free? Obeying commandments helps protect us from Satan's attacks (temptations) and helps keep us free of Satan's destructive traps (sin). A loving Father in Heaven gives us commandments because he wants us to be safe and happy, just as a father or mother on earth gives their children rules such as "don't play in the street" or "don't touch the hot stove" because they want their children to be safe and happy.
Show the children the pictures of the signs, and ask what would happen if they didn't obey the laws, rules, and warning signs that are around them in the world. (They could become seriously injured or even die.) Explain that just like laws, rules, and warning signs are meant for our protection, so are the commandments meant to be for our protection. We are free to choose whether or not we will obey God's commandments, but we must also live with the consequences that follow as a result of our choices.
Scripture Story Continued
12. The Lamanites had prepared themselves for battle with armor, shields, and thick clothing. Being prepared they thought they could easily overpower the Nephites. But they were astonished and afraid when they saw the fortifications around the Nephite cities.
13. They attempted to attack and gain entrance to the cities in many different ways, but the Nephites defenses and preparations prevented the Lamanites from succeeding in their attempts. During these initial attempts to attack the cities, all of the Lamanite's chief captains were slain and more than a thousand of the Lamanite's soldiers were slain, but not one Nephite was killed.
The Lamanites fled and reported to King Amalickiah of their great losses. Amalickiah was exceedingly angry at his people because he had not gained his desire to bring the Nephites into bondage. He cursed God and Moroni.
14. The Nephites, on the other hand, did thank the Lord their God for delivering them from the Lamanites.
Activity
The Nephites built up fortifications to protect themselves from the attacks of the Lamanites. Through keeping the commandments we are also building up protective barriers and fortifying ourselves against the fiery darts of Satan's attacks. (Ephesians 6:16)
Put the picture of the fiery darts on the board, and then put the wall outline to the left of the picture. Have the children build a barrier wall in front of the fiery darts by taking turns telling a commandment, explaining how that commandment helps protect them, writing the commandment on a stone, and then attaching it to the wall outline. Continue in this manner until the wall is built.
Remind the children that keeping the commandments helps keep us safe from Satan's attacks and from his attempts to enslave us in sin. Express your testimony and gratitude for the commandments of God and for the freedoms and protection we enjoy through keeping the commandments.
Weekly Reading Assignment
Remind the children to do their scripture reading assignment for this week – Alma 46:4-22, Alma 48:1-17, Alma 49:1–30. Additional optional chapter – Alma 47