The Lord Chooses His Apostles
Characteristics of Apostles
Ensign July 2019 "Family Study Fun"
Acts 6:1-8
As you read these verses in Acts, make a list of any Christlike attributes you see in the disciples chosen to be the Lord's servants.
On your smartphone or computer, go to the Facebook and Instagram accounts of the current Apostles and General Auxiliary leaders.

Scroll through their posts and read about some of their recent experiences visiting members of the Church throughout the world.
Discussion: What Christlike attributes do you see in the individual Apostles and other Church leaders? Why would the Lord value these attributes in choosing His servants? Which of these attributes would you like to develop?
Apostles Testify of Christ
Friend November 2018 D. Todd Christofferson testifies of Jesus being the Bread of Life. (The link includes a painting of Jesus breaking bread.)
Apostles Minister
Friend January 2019 "President Ballard Visits Texas" After Hurricane Harvey hit Houston, President Ballard flew to Texas to help.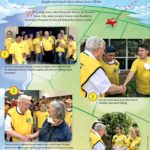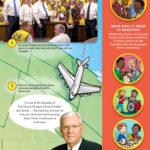 Apostles Travel to Visit Members Around the World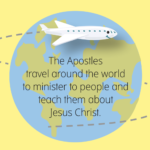 Friend September 2019 "Elder Stephenson Visits Chile" Elder Stephenson visits Chile for a temple dedication, the second temple in Chile
Friend August 2019 "Elder Rasband Visits Cape Verde" Elder Rasband visited a school were many of the children don't have parents to take care of them. The Church gives money to help the children's school that Elder Rasband visited. (Activity: Four children donated money to the Church's Humanitarian Aid Fund. Follow the shapes along the path to see what each child's money was used for. (Also includes instructions on how to donate money to humanitarian aid.)
Friend July 2019 "Elder Andersen Visits Ivory Coast" Elder Neil L. Andersen and his wife, Sister Kathy Andersen, traveled to Ivory Coast for the groundbreaking of a new temple. (Activity: Children sing the words "I love to see the temple" in many different languages. Follow the line from each of these sentences to the correct language.)
Friend June 2019 "Elder Christofferson Visits the Philippines"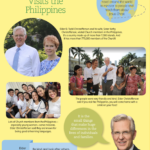 Friend April 2019 "Elder Bednar Visits India"
Friend March 2019 "Elder Uchdorf Visits Russia" He encourages them to prepare themselves for the new temple that will be built there. It will be the first temple in Russia. Link includes photos.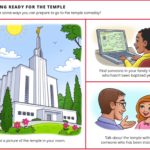 Friend February 2019 "Elder Holland's Trip with the Prophet" Elder Holland and the prophet visited eight countries. Match the flag with its country. Link includes photos.
Friend October 2019 "Elder Renlund Visits Children" Elder Renlund travels all over the world to visit with the saints. His favorite thing is meeting and shaking hands with children. Sometimes he even visits them in Primary! (Activity: Color the postcards from some of the places Elder and Sister Renlund have visited. Then draw your own postcard!)
Friend May 2019 "Elder Cook Visits Brazil" He invited everyone to be a light. That means being a good example and helping others, like Jesus did. "When we are a light, we influence the world for the better."
Craft: Make a light with different colors using a jar and tissue paper. Maybe have the children say how they can be a light at home, in their neighborhood, and at school for each strip of colored paper they add to the jar.