Waiting to Get Baptized
Friend March 2017 "Worth the Wait" Sadie's dad won't let her get baptized until she is older. Sadie is sad about that, but she tries to think of the things she can still do at church.
Friend June 2018 "Heavenly Father Knows You" A group of people in a small town in ArgentIna had learned the gospel and wanted to get baptized but couldn't because they lived far away from other towns; no church leaders had come to visit their town for some time. They were able to pool their money so one man could go find the missionaries. They were eventually able to get baptized in a portable swimming pool.
Preparing for Baptism
Friend February 2019 "Ingrid's Birthday Surprise" Ingrid gets a special present for her seventh birthday from her mom—a Book of Mormon. It was a special gift to help her prepare for her baptism. Ingrid read the entire Book of Mormon that year and prayed for and received a testimony of its truthfulness.
Clean Again
Friend March 2017 "A Great Feeling" Paulo didn't want the feeling he had when he was baptized to go away, but the next day he yelled at his brother. Through repentance and the sacrament he was able to get the feeling back.
Baptismal Covenants
Friend February 2019 "Promise to Try" Tatsuki's teacher came to his house to talk to him about his upcoming baptism. He became concened when he learned about the covenants he would be making. He didn't think he would be like Jesus every day. Then his mom reminded him of the kind things he had done and told him that he was following Jesus by doing those things. He also learned that he could repent and be forgiven if he made mistakes. He was then happy that he could be baptized and try to be like Jesus.
Friend April 1988 "A Name to Live up to" Jenny is sad that she isn't named after someone whom she could try to be like–someone who did great deeds–but she is reminded that she took on the name of Jesus when she was baptized.
Melissa's Baptism – Girl is upset because her nonmember father isn't coming to her baptism. Friend March 1984
Cleansing – Boy learns that through the atonement we can be cleansed of our sins. Friend January 1985  (Story also includes bleach and food coloring object lesson.)
Friend June 2016
"Who will Baptize Me" Margo thinks her baptism won't be special because her father can't baptize her, but she learns that isn't true.

Baptism Questions and Concerns
Friend June 2018 "Twin Jitters" Kaylee is nervous about getting baptized. She worries about being dropped or not being able to breath. Her twin brother is also nervous. Her grandmother suggests they get a blessing from their father. Afterwards they feel much better.


Friend February 2019 "He Calmed the Waters" Daniel lives on an island in the Pacific. He was worried about getting baptized because he had to get baptized in the ocean, and the waves can be big. The waters were rough on the day of his baptism, but during his baptism they were calm. Heavenly Father answered his prayer and helped him.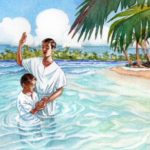 Convert Baptism
Friend April 2019 "Feeling New" Rasmussen and his mom took the missionary lessons and read the Book of Mormon, and then Rasmussen's mom decided to get baptized. After the baptism, Rasmussen is excited to turn eight so he can be baptized and feel new too.