Ensign March 2017 "Put On Your Armor" Draw a line from one number to another for every item mentenioned concerning the gospel things we can do that help protect us from the bad things of the world.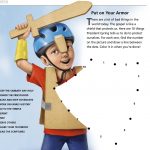 Friend February 2017 "Friends By Mail" Picture of the children wearing the armor they made for family home evening.
See also Book of Mormon Lesson 25 and the song Scripture Power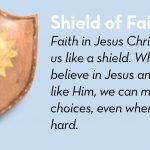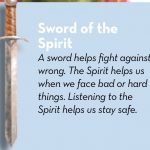 Ensign August 2018 "Building Spiritual Patterns" A girl's parents put imaginary armor on her and her siblings before they left for school each day. This was meant to remind them of the spiritual armor that would protect them from evil.