Why Write a Journal
Joseph Fielding Smith— "Every important event in our lives should be placed in a record, by us individually. … If you have accomplished something worth while during the day, put it down; it may be of use to posterity." (Doctrines of Salvation, 2:204.)
Spencer W. Kimball— "Your story should be written now while it is fresh and while the true details are available. …
"Write [about] your goings and your comings, your deeper thoughts, your achievements and your failures, your associations and your triumphs, your impressions and your testimonies. …
"Those who keep a personal journal are more likely to keep the Lord in remembrance in their daily lives."
(President Kimball Speaks Out, pages 57, 59.)
What to Write
Make a mini book to write the journal prompts in. Also cut out these "stickers" to add to pages.
Activity Idea: Put the following into a jar and choose one to write about each week.
Friend September 2018 "Mind Muscle: Funstuff" Write your answers to these questions.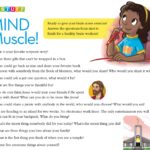 Ways to Do a Journal
Ensign June 2017 Make a Goal to Keep a Journal (Link includes a story about why to keep a journal)
Do you want to keep a journal but don't know where to start? Consider one or more of the following ways to document your life and testimony:
Keep a traditional written journal.
Keep a gratitude journal.
Use a journal app.
Make a photo journal, complete with captions.
Keep an audio journal with a digital recorder.
Use your social media account to document your experiences.
 Journaling to Deal with Life's Problems
Friend December 2016 "Not So Great Sixth Grade Year"  Writing in a journal helps a girl deal with the difficulties of moving and going to a new school. (Includes some ideas of what to write in a journal.)