Scriptures are Special Books
Friend January 2019 "The Scriptures are Special Books" Camila loves books. Her favorite book is the scriptures. She feels happy when she reads them with her family. Scriptures are special books because they teach us about Jesus and the commandments.
Read the Scriptures Daily
Friend May 2019 "For Older Kids" "I was having a really hard time at school. I had the impression that I should read my scriptures. I did, and it helped, so I kept doing it. It helped me have a better day and a better attitude. And it helped my mind work better. I know that if we read the scriptures every day, we will be both spiritually and physically protected." Sarah W., age 11, Idaho, USA  (Link also includes picture of Sarah.)
Friend June 2017 "Book of Mormon Club" Sydney starts a Book of Mormon club where she and her friends discuss what they have learned.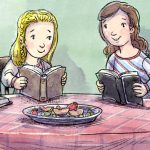 Ways to Study the Scriptures
Friend November 2018 "Thankful for Scriptures" James likes to act out the stories in his Book of Mormon picture book. He can even imagine sitting with Jesus when he blessed the children. It makes him feel happy and grateful for the scriptures. (Link includes activity about finding the family's scriptures so they can read together.)

Family Scripture Study
Friend October 2019 "Tanya's Scripture Time" Taya reads scriptures with her family. On Sunday, Taya listens to the Primary lesson. "I know this story!" she says. Taya shares what she knows with her Primary class. She feels happy and warm inside.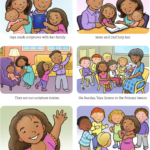 Reading Scriptures Helps Us Follow Jesus
Friend December 1988 "My Scriptures" Poem about family scripture study and why it's important even when children are small.
Good Examples to Follow in the Scriptures
Friend August 2017 "Being Like Nephi" Mason learns about Nephi and tries to follow his example and make righteous choices.
Reading Scriptures Helps Us Recognize Truth
The Scriptures can Inspire Us
The Scriptures Teach Us
Friend April 1988 "Magic Garden"  Nicky and his grandfather plant a garden, and they also plant seeds in their minds that grow as they read the scriptures and other inspirational books. The scripture verses Nicky learns helps him deal with death when his grandfather dies.
Reading Scriptures can Help Us in Life
Friend March 2019 "For Older Kids" Every night I used to have nightmares. When I went to Primary, my teacher said that the prophet told us to read our scriptures every day. Then I got in the habit of reading them every night, and now I never have nightmares. Katie L., age 10, Idaho, USA
Applying the Scriptures
Friend August 2018 "The No-Fighting Promise" After a few days of staying at cousin Timmy's house, Madi and Timmy start to fight. Timmy suggests they be like the Anti-Nephi-Lehies and make some toy swords and bury them and promise they won't fight each other anymore. After that they found ways to compromise so they didn't fight.
Scripture Heroes
Friend June 2017 "Being Like Shiblon" Elder Ringwood's scripture hero is Shiblon